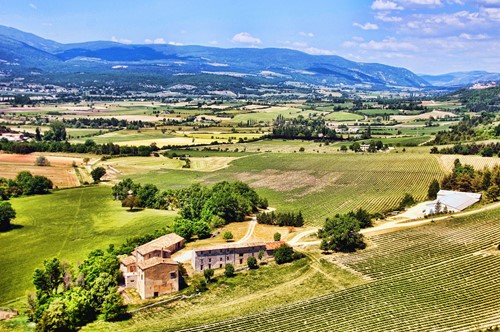 If you love the ease and comfort of farmhouse style but want something a bit more elegant, then French country design might be right for you. This design style is popular all over the world for combining rustic elements with traditional luxury and beauty. Here we'll go over the basic elements of French country design to better understand the style and how you can use it in your own home.
Light & Warm
French country style features warm color palettes with plenty of soft white. Pastels and other low-intensity colors like baby blue, creamy yellow and soft pink all come together with white and off-whites to keep interiors bright and soft. The style promotes a sense of casual charm that also has a bit of romance with delicate floral patterns and other organic motif that reflect the world outside the home.
Exposed Beams & Natural Stone
The more rustic side of the French country style can be seen in exposed woodwork and natural stone. Vaulted ceilings with unfinished wooden beams recall an old-world farmhouse feel and light-colored stone is practical and timeless. Stone surfaces are usually painted white or other light colors to keep lots of light in the room and soften any hard edges. You'll also find the preference for exposed beams and stone reflected in furnishings that also have natural materials.
Copper & Cookware
One of the most iconic elements of French country design is shiny copper cookware. Gleaming but well-used pots and pans are prominently displayed in kitchens and accents like drawer pulls and sink hardware may also include copper. This creates contrast with the softness of the color palette and also provides vintage charm. Cookware in particular is a focal point in French country design, with the kitchen being the center of the home's universe.
Rounded Corners & Curves
The key way that French country style differs from other similar design styles is that it has a lot of soft edges. Furniture and accessories have gentle curves and round shapes. To carry this through in your own design, opt for seating with rounded backs and circular accent tables. Vintage-style armoires and headboards with swooping lines and delicately carved accents are perfect examples of this element showing through. You will also find a lot of floral and pastoral imagery in French country textiles and artwork.
Emphasis on the Outdoors
The philosophy behind French country design is to create a feeling of ease and elegance while celebrating a love of the outdoors. You can create an escape to the beauty of the French countryside through the use of natural elements and by emphasizing outdoor living. Create a space that makes you want to spend time outside by adding bistro seating with cushions. A vintage bar cart for your patio or deck makes an excellent edition to the luxurious but practical mood. Try tossing a picnic blanket over a rectangular table to soften it and add casual charm.
French country design style may seem expensive and difficult to implement in your own space, but once you understand the above elements you will find many ways of making the style your own. From natural materials to romantic florals, you'll find the perfect balance that works for any room of your home.